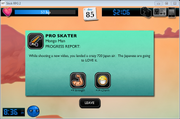 The Pro Skater job is available at Skate or Cry in Stick RPG 2. You must have worked 3 times after your previous promotion and have the required charm to advance.  NOTE: There is a method where you can save the game when you get a promotion, quit, reopen the game, and if you have the stats, you will be able to get the promotion without working. This method works with all jobs.
Finding a skateboard
Across the street from the 11-Seven (3rd Island) is a Skater Punk who will give you a Custom Skateboard in exchange for an XXX Video, you can buy one for $15 from the Hot Hot Ho (1st Island along the left side) as long as you have first purchased an ID card. If you're lazy and have money you can buy a Skateboard from Skate or Cry for $325.
Job position
Mongo Man - $14/3h (Requires 40 Charm and a Skateboard)
Longboarder - $17/3h (Requires 67 Charm)
Ollie Cat - $21/3h (Requires 91 Charm)
Rail Buster - $26/3h (Requires 124 Charm)
Vert Skater - $33/3h (Requires 155 Charm)
Sick Trickster - $39/3h (Requires 190 Charm)
Grind God - $51/3h (Requires 245 Charm)
Duke of the Deck - $66/3h (Requires 279 Charm)
Skate Shoe Designer -$85/3h (Requires 330 Charm)
Legendary Toilet - $140/3h (Requires 390 Charm) (Receive Pro Skateboard)
Other events while working
Rad Bull Sponsorship -$3500
Tried to ollie a parked car With A Hot Chick +8 STR +5 CHA
Placed 1st in the vert competition -$3100 -24 CHA
Hot skater chicks -21 CHA
Tore up the skatepark -12 STR -11 CHA
Breaking down footage -23 INT
Sick new grab trick -9 INT
Skated in no skate zone +4 CHA
7200 Japan air -9 STR -14 CHA
Magazine names you boarder of the year -$2300
Fell on your head +12 INT
Broke your board +$500
Spliting your nuts trying to rail +42069 CHA